What do you use as an emerger buzzer/chironomid midge in/below the surface film?
What do you use after they have hatched and are being taken on top?KEY POINTS OF ATTRACTION:
I have found that since these flies have shiny bodies their body shows in colour from the side= match the colour of the hatch.
From below they are in colour or in silhouette = black.
From any point of view on a sunny day they can reflect sunshine = silver.
They have a thorax wingcase bulge at the shoulder which can be built up, or just allow the hackle centre area to imitate it anyway.
So these are some dressings that work all season:
Silver Spider and Black Spider.
Many popular imitations of these are made using a bent body going round the hook bend, or using a nymph style hook. It's not necessary. Trout see them in all angles, bent and straight, and know perfectly well what it is when straight.
That means that the stronger conventional hook designs can be used.
The straight body spider pattern is simpler and quicker to tie up and that is two advantages.
I retain the "bent" body only when epoxied specificaly for the technique of static fishing deep from a floating line, under an indicator/fuzzy fly, fished vertical and still, on a fluorocarbon leader.
For all other surface work with floating line, or deep work with sinking/intermediate lines the spider pattern is my 1st choice to imitate these bugs.
I also use bent versions tied up in the days before I learned the advantages of these patterns, but I am only using them up. When the bent (silk/floss body) ones are gone they're gone for good from my fly selection.
COLOUR VARIANTS: Also dress some in claret body with silver rib, and in black body with red rib, and olive green body.
The straight olive body version doubles up as an excellent lake olive imitation.
Dry Bloody Butcher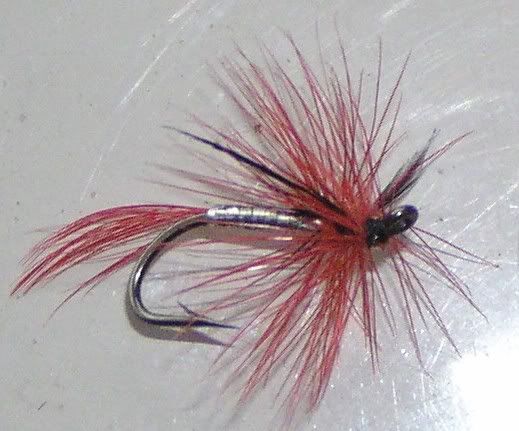 When fishing on a sunny day, and the trout are on top, fished on top dropper, this is superior to the more popular Duck fly with black body in my opinion.
I use the Duck Fly, Bibio on darker days, the Dry BB in bright days, and alternate the two in intermittent sunshine.
The Dry BB also doubles as an acceptable imitation of the Heather Fly which is prevalent in moorland areas.
For sea trout bob fly fishing my alternatives (in this part of the colour spectrum)would be Claret Bumble or Dry Bloody Butcher.
Norm